Am a bit late with this one - been slacking in the sunshine and attending weddings and being altogether a wonderful vision sensible living. Or something.
KW had a rare Friday night free. I put DSL through 4hrs of post work dinner and wine with me and 3 girlfriends before leaving him to clear up & heading out with KW for a girls night out. Its a rare thing that I go out clubbing without there being a specific DJ I am going out to see. We searched RA for techno in London on Friday 17th May and the only techno nights listed were
Clock #3
and Modeselektor and Apparat at the Roundhouse. We went to Clock, ADJ went to the Roundhouse. Here's his review of the gig (shortened as he deleted what he sent me before I could write it up - twit!):
Apparat was great and I could have danced all night to him. Modeselektor was definitely more for the kids and I was not down with it - ADJ

The Rhythm Factory
Myself and KW turned up to
The Rhythm Factory
ready for action at 12am. We got off the bus just
opposite the venue and were immediately greeted by the foulest stench in the air... the funk of forty thousand years... The sewers/drains outside were VILE. We hurried in and the front bar /cloakroom area stank too. ONWARDS... the back rooms were not subject to vileness and were lightly scented with incense. Lovely. The place was however dead. There were about 6 people in there. Undetterred we got the drinks in and proceeded to dither over whether or not to use the cloakroom (we opted no until it filled up a bit) and got to the business of critiquing and dancing....
First up was resident DJ Tiffany Marcquet. We like her. Girls night out - girl DJ - it's as if we planned it. Tiffany was playing tech-house with big beats and snares and menacing acid undertones. It was all bouncy and fun and a great way to get the party started - if only more people had been there in the first place. Our favourite track was this:
Next to hit the decks was
Red Pig Flower,
a trendy looking Asian lass delivering us shooms and squelches and overtones of psy trance in her techno beats. This moved into some pretty serious moody bass that had rather lovely more soulful melodies, a fair few Green Velvet style tracks progressing on to some warm summer vibes, but all with menacing techno bass lines.
All this female action behind the decks sparked a conversation between an KW on the subject. Red Pig
Flower was playing some great tunes but was losing our attention towards the end of her set and really didn't look much like she was enjoying herself up there. We both like to see a DJ enjoying themselves behind the decks, or at least engaging with the audience. KW feels that she deals OK with a male DJ being a bit dead behind the eyes, but that she expects women to be properly having it up there and dancing about and being fiesty and sexy behind the decks. I imagine she'd enjoy watching
Nina Kraviz
(click the link if you've not seen the documentary; join the debate), although maybe not listening to her. I think KWs intolerance to "boring" women is due to the fact that the female sex is generally more in tune with their emotions and more ready to share them. When we personally love a piece of music you see that in our faces and in the way we move. We expect other girls to do the same. We are not boys; We do not know how things work inside their brains. Therefore if they are moody and mysterious behind the decks we don't mind. Anyhow, the long and short of it is that we felt Red Pig Flower needs to think about looking up and interacting with the audience a bit more - you can't afford not to when the crowd is so small. We liked the first half the set but got bored towards the end.
The place was filling up with students from nearby halls and a few others by the time
Match Hoffman
started. We'd seen him getting ready to play - over 6ft tall, big guy with a bald head and a big beard and black
rimmed glasses. He looked like the kind of guy that knew his techno... Hello big drone intro breaking into a deep 4/4 beat. Hello Berlin. Cheeky snares, engine revving mid range building and building and breaking into awesomeness. These tunes are filling the room, regardless of the number of people in it. The sounds emanating from the speakers are fuller, with more depth. The overall sound quality is better and I am wondering why - is it that Match is playing on the CD decks when the others were on laptops? Is he using flacs instead of MP3s? Lord knows but my ears are happy. KW got a bit irritated and impatient that a couple of his build ups were far too long and he needed to "just get on with it - this is not ibiza trance". Aside from that, we were highly satisfied by some blancmangey squelchy bass, melodic mid range wobbles, clean flawless mixing and crisp use of EQs that added a lot to the overall set. KW remembers hearing
The Seawolf by Underground Resistance.
There was a second "House" room noted on the event poster but we had no idea where it was. At about 2am we were accosted by a chirpy Italian who tried to herd us into a dark corner, when suddenly a neon sign lit the wall saying "Room 2." Hiding in the dark corner was the second room and now we'd found it we thought we should go check it out... Lovely house music but on a totally different vibe to the techno room so we left almost instantly before we lost our mojo. I do like house music a lot mind you, you can find out more on my soundcloud account here:
Next up we saw two skinny pasty looking guys getting ready to play with blunt angular fringes. I went to get a drink and when I next turned back towards the decks there were two hooded masked figures at the decks. Now masks can go one of two ways. It either signals something amazing is about to happen or it means a world of total bollocks is about to unfold from the speakers. These were cool masks. And the set
Sub Secret - taken from Facebook
was very cool. The interaction between the two DJs known as
Sub Secret
was fun to watch, their relationship was very fluid with the odd nod here and there between them and a lot of bouncing around. They were so nearly BRILLIANT but just missed the mark. The slightly tedious repetitive start picked up quickly and soon Tron-esque computer game noises built into a digital frenzy with all our hands in the air - but the break was weak, hollow and needed more bass. There was so much that was great about these guys and this set but every time we felt a moment of genius coming, it never quite made it. I will be interested to keep following Sub Secret.
Theo Komp
As I stood back watching KW swipe away boys like flies, the final DJ came on. The crossover was not exactly smooth.
Theo Komp
mixed out of Sub Secrets set and into his in a very non-fluid, forced fashion that was a bit piss poor. Sub Secrets set ended up ending weakly because if it and it really would have been much better for all concerned if there had just been a moment of dead air between sets, rather than trying to meld two very different sounds together. Eventually after that shakey start, Theo got into his groove and blasted out some great tracks from Plastikman and other classics. However the EQs levels were clumsy - too heavy on mid range much of the time. The use of EQs made me feel like nothing flowed, like the tunes were disjointed and were just noises that were sitting side by side, not a full sound.
Overall, this night was not the best but, it was also not the worst. It may be the most attention that I have paid to sets for ages. I had no idea who any of the DJs were and there were many varied styles and unexpected gems - more variety of style and sound than I have heard in one room at a techno night.
And so we went to get our coats and KW had lost her tickets. Her number was only one after mine so we pleaded for the coat and bag to our massive delight... not only did they hand them over, but they told us how someone found her tickets and handed them in - they could have stolen it - sometimes people are actually just good and nice. WIN :)
I got home, drank a camomile tea and watched very many episodes of Game of Thrones Series 1. Sex and Dragons. What more does a TV show need?!
DSL was away all weekend, leaving me to go techno dancing with TIR, Jammy, & Hilda. We were headed to Entail Presents Warehouse Party with Speedy J at Crucifix Lane. I was really looking forward to a) seeing Speedy J for the first time (I listen to a lot of his mixes at home but seem to always miss him play in London) and b) going to Crucifix Lane for the first time - with Cable closing I am keen to be finding new places to go out.
We arrived about 12 and the dance floor was pretty low on attendees. The Entail Records DJs warmed the place up with some nice tech house. Red Pig Flower was first on and I have to say was better the night before. We were all revved up for Speedy J and none of the first 3 DJs really did much to get us ready. The tech house was just pleasant background music whilst we all chatted at the bar and had a gossip, caught up on news and slowly edged forwards. It was only when
Chris Stanford
took to the decks that we really made any effort to shut up and dance.
Ear to Ground
's Mr. Stanford crafted a set that took the tech house and added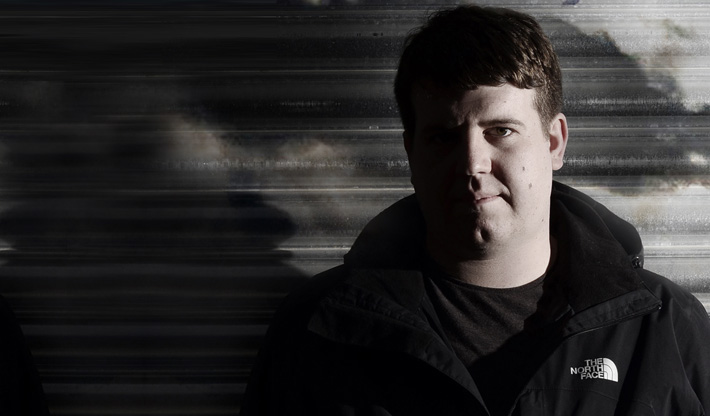 some maracas, some deep bongo rhythms and moved us through some funkiness which broke out into waves of banging techno with deep brassy fog horns straight from War of The Worlds and yet the whole set was still remarkably housey until the latter stages where the stomping 4/4 bass kicked in proper; metallic hand claps like staple guns and the tss tss tss of high hats a plenty. We'd made it half way to the front now. And it was loud. Too loud. We had our earplugs in already. Chris did admit to us later that he had turned it up when he went on. Not so good for our sensitive little ears. TIR made sure to mention his woes to the man himself. More talk of ear plugs and what is best to use continued.
The only speakers were positioned at the front, so to reach the back of the room they had to really bang out the decibels. But it got painful nearer to the front. Hilda was away down the front happy to risk deafness and tinitus - telling TIR off for standing about like a librarian.
Chris Stanford ended his set with an all out techno onslaught of melodic Latin riff and kick arse bass, then he handed over to Speedy J. Instantly the sound changed. The production quality of the sound was
instantly higher and my ears no longer hurt - everything at the same volume but now sounding crisp and was less noisy. Rolling thunderous bass filled the arches. Happy days. Speedy J is quite serious behind the decks and not very enigmatic to watch but who cares when the tunes are that good?! I can't really pick out any highlights -
Speedy J
s set as the whole was a cacophony of industrial greatness and technical wizardry, punctuated only by Hilda trying to feed us Mentoes from her Mary Poppins handbag. The crowd went wild, the dance floor was full and rocking throughout. We are now down at the front.
Funny story of the night was 2 girls pointing at a very wasted guy virtually humping the speakers saying "I want whatever he had" and then him turning around and saying "alright, follow me" and leading them off.
I am told that the people that own Crucifix Lane also ran Cable and so I am quite surprised at the difference in sound quality between the two venues.
Grandpa TIR was whinging about the volume again so we moved back a bit.
The final DJ I think was
Philip Row.
There was an instant energy change from the last DJ but no one was
going to match Speedy J. Eerie whistles and howls screamed through the room and industrial sounds flowed. Fresh from a chat with Speedy J about earplugs, TIR was now a happy chappy, with
Elacin
being Speedy J's brand of choice TIR may actually be able to buy some that work and not moan about it like an old git all night.
The venue itself I am not sure about. The crowd was lovely and the cloakroom and toilets were not exactly glam but were alright. Bar service was good and the old school feel of the place was great. I just don't like the sound system.
Following our goodbyes and exit from the building we were slightly at a loss. No Jaded. What do we do???? We opted for cocktails and headed to the Heron Tower to
Duck & Waffle
and its 24hrs alcohol license. It sounded like a heavenly idea. After an hour ambling across the pavements of central London following
directions from a constantly re calibrating Google maps, we finally made it - by which time I was so past wanting cocktails I was less than fun to be around. The view was amazing, the company lovely but grumpy pants here had a tea and wondered home. Will defo be back there for breakfast one day when I am more prepared!!! Top tip - they only serve alcohol at 7am if you are ordering food. So turn up hungry and with cash.
Apologies again for the lateness of this blog. I started writing it 2 weeks ago in rainy old England and am currently sitting on a terrace in the blazing Barcelona sun getting ready to blitz off-sonar. Get ready for reviews of Tresor, Drumcode and other fabulous parties. BRING IT ON>>>>>>